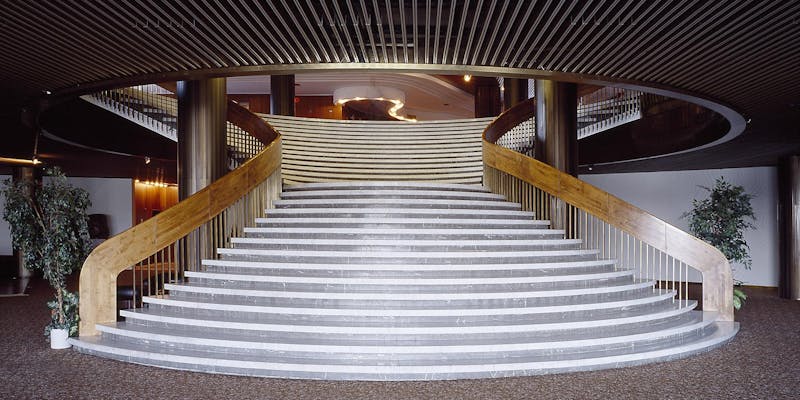 Curator Adam Štěch of the Czech creative collective OKOLO will talk about the emblematic communist era Hotel Praha in Prague, demolished in 2014. Focusing on the strong design legacy and the phenomenon known as "total work of art" (Gesamtkunstwerk), where architecture, design and art became one all-embracing art concept, Štěch will present several other projects by leading Czech architects and designers, working between 1945 and 1989. Taking place in the iconic brutalist building of the Slovak Embassy, visitor have a unique chance to truly immerse themselves in this fascinating cultural heritage.

Hotel Praha, built over six years made use of the latest technology, materials and interiors and with a seemingly bottomless budget it became the most luxurious hotel within the Czechoslovak Socialist Republic, an architectural symbol of late communist rule used almost exclusively by the party. Leading architects and designers were invited to take part:Jaroslav Paroubek, Arnošt Navrátil, Radek Černý and Jan Sedláček were enlisted for this complex architectural commission. Zbyněk Hřivnáč, an interior and furniture designer prepared interior concepts and ideas to implement large unique artworks from a line-up of prolific artists such as René Roubíček, Stanislav Libenský, Stanislav Kolíbal or Karel Nepraš. After the collapse of the communist regime in Czechoslovakia, the hotel was transferred into a state-owned commercial five star hotel, and was eventually torn down in 2014.
Prior to demolition some of the pieces were rescued by private collectors and museums. A collection of these pieces are part of the exhibition 'Hotel Praha' by Sigmar, London and OKOLO, Prague as part of the Brompton Design District programme 'Material Consequences' curated by Jane Withers Studio, during the London Design Festival, 15 - 23 September 2018.
About Adam Štěch
As an art theoretician, writer, and curator, Adam Štěch is focused on design, architecture, and fashion. He is a co-founder of the creative collective OKOLO, responsible for dozens of design publications and exhibitions in the Czech Republic and abroad. Since 2009 he has been the editor of Prague-based magazine Dolce Vita, in 2018 he became the editor of the Czech Vogue. Štěch also writes for Wallpaper, Modernism, DAMN°, Cool Hunting, Domus, Architonic, Mark, Frame, A10, and Sight Unseen. He has collaborated with Phillips de Pury, Casa Mollino, Gubi, Designblok, Tolix, Verreum, Form, Design Museum Holon, Depot Basel, Bratislava Design Week, Vienna Design Week, Ziba, Dox, Qubus, Maharam, and more.